Baroque, Classical and Romantic Traditions of Two Guitars
Baroque, Classical and Romantic Traditions of Two Guitars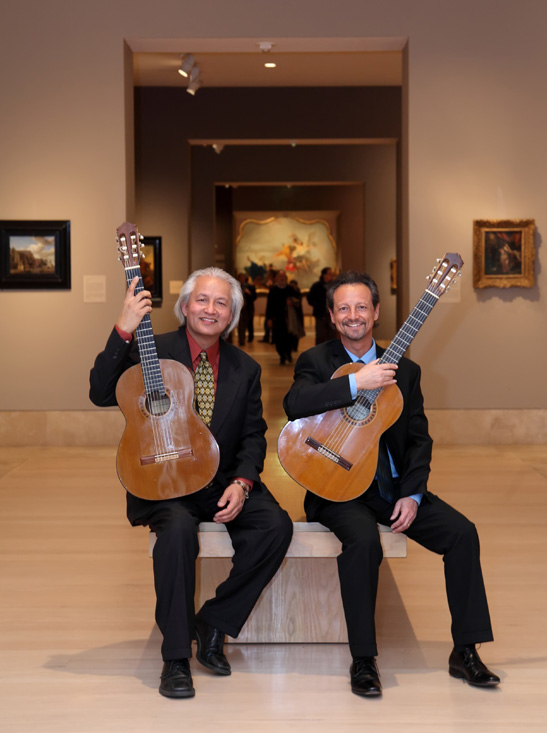 The Odeum Guitar Duo, photograph by Ramona Trent.
DATE:

TIME:

5:00 pm – 6:00 pm

Performers:

Odeum Guitar Duo
The Odeum Guitar Duo returns to the Museum to perform works by J. S. Bach, Antonio Vivaldi, Antonio Soler, Wolfgang A. Mozart and Johann K. Mertz. This concert rounds out a decade of performances by the guitar ensemble at the Museum. Various musical epochs are expressed in a unique way by the driving intensity, varying shades of tonal colors and subtly adjusted volume levels of the two vintage Spanish classical guitars, which serve to bring to the listener enjoyable experiences of the emotional content inherent within the musical masterpieces.
EVENT DETAILS
Fee:

Free with admission

Location:

Theater
Details: Event stickers are required for performances. Stickers are distributed in the Museum's Entrance Gallery starting at 4:00 p.m., one sticker per person on a first-come, first-served basis. Norton Simon Museum members enjoy early seating between 4:30 and 4:45 p.m.; general admission seating begins at 4:45 p.m. Membership does not guarantee seating.

Late Seating: In consideration of our performers and visitors, late seating will not be allowed 10 minutes after the start of the event.