Family Visits
Family Visits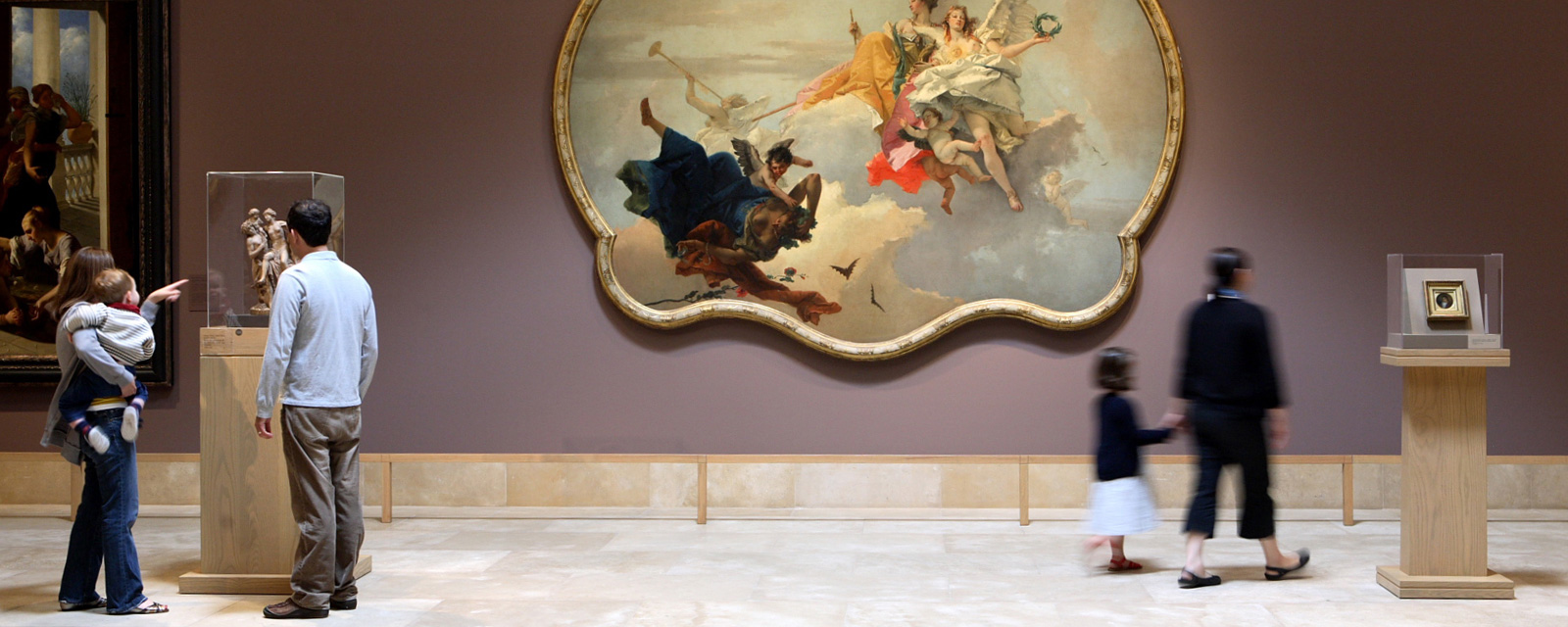 Visiting museums and experiencing art with kids can be one of the joys of life—a welcome respite from an otherwise busy schedule. With its exciting art collection, medium-size campus, enchanting sculpture garden and engaging educational programs, the Norton Simon Museum can be a terrific place to introduce your little ones to the visual arts. We also offer free admission to all children 18 and younger. Below are some ways to help you make the best of your visit.
Take it slow
While the average Museum visitor spends two hours onsite, your child might not have the interest or attention span to get through all of our galleries in that time. Choose an era or theme to focus on, and take your time. Let your kids set the pace.
Make connections
Paintings and sculpture often portray fascinating stories from history and world religions, as well as transport viewers to different places and eras. When approaching a work of art, look at ways to connect it to your little one's life. Does your child like to dance? French artist Edgar Degas was fascinated by the ballet and its dancers and the Museum's 19th-century wing is home to many of his depictions of dancers. Does your child have a beloved pet? Be on the look-out throughout the Museum's collection for horses, cats, dogs, lions and even monkeys! Older children will love to place works of art in context to their studies.
Take a break
Be sure to intersperse your gallery time with outdoor time. The Museum's lovely sculpture garden includes meandering paths, a beautiful lily pond, benches, wildlife and a breathtaking collection of 20th-century sculpture. The Museum's Garden Café is nestled in a grove of tulip trees overlooking the pond, and has a kid-friendly menu. If you need a quiet place to relax indoors, there is a bench tucked away to the left of the theater entrance, and a quiet gallery with several benches in the lower level overlooking the Asian sculpture garden. Please ask a gallery attendant for assistance if you need help locating these areas.
Let us be your guide
The Museum offers a fun and lively audio tour for children available for rent at the Information Desk ($3 per person/free for members). Free family guides, in English and Spanish, are also available at the Information Desk. Throughout the month the Museum organizes free educational programs for children, ranging from art-making, storytelling, performing arts and film screenings. Please check our calendar for future events.
Plan ahead
If your child is unfamiliar with visiting a museum, you might want to view our image-based booklet on what to expect when visiting the Museum. Lots of pictures and simple text help young ones visualize the experience.
Protect the art
Finally, a lot of what children love to do—running, touching things, eating—are not allowed in museum galleries. Every visitor, young and old, plays a role in protecting the art collection and ensuring its enjoyment for generations to come. We ask that you review our policies for protecting the art collection before your visit.