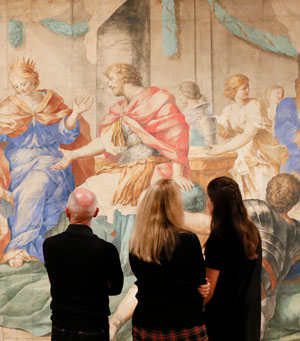 The Norton Simon Museum Presents
A Night in Focus: Titian, Tapestries and the Italian Renaissance
This lively event features art-making, weaving demonstrations,
music and more for people of all ages


­WHAT: A Night in Focus: Titian, Tapestries and the Italian Renaissance
Visit the Norton Simon Museum for a lively evening program focused on the exhibitions of Titian's Portrait of a Lady in White and Once Upon a Tapestry: Woven Tales of Helen and Dido. Throughout the evening, visitors of all ages enjoy live music in the galleries, a weaving demonstration by tapestry weaver Yadin Larochette, art-making activities for visitors of all ages, personalized poems created by Jacqueline Suskin, Italian-themed food and wine for sale in the café and more.


WHEN: Saturday, February 23, 5:00–7:30 p.m.

WHERE: Norton Simon Museum
411 West Colorado Boulevard in Pasadena
Located on the corner of Colorado and Orange Grove Boulevards at the intersection of the Foothill (210) and Ventura (134) freeways. Parking at the Norton Simon Museum is free.

ADMISSION: A Night in Focus is free with Museum admission.
Admission is $15.00 for adults; $12.00 for seniors; and free for Museum members, students with I.D., and everyone age 18 and under. For general public enquiries, call (626) 449-6840 or visit www.nortonsimon.org.
-###-
About the Norton Simon Museum
The Norton Simon Museum is known around the world as one of the most remarkable private art collections ever assembled. Over a 30-year period, industrialist Norton Simon (1907–1993) amassed an astonishing collection of European art from the Renaissance to the 20th century, and a stellar collection of South and Southeast Asian art spanning 2,000 years. Modern and Contemporary Art from Europe and the United States, acquired by the former Pasadena Art Museum, also occupies an important place in the Museum's collections. The Museum houses more than 12,000 objects, roughly 1,000 of which are on view in the galleries and gardens.

Location: The Norton Simon Museum is located at 411 W. Colorado Blvd. at Orange Grove Boulevard in Pasadena, Calif., at the intersection of the Foothill (210) and Ventura (134) freeways. For general Museum information, please call (626) 449-6840 or visit nortonsimon.org. Hours: The Museum is open Thursday through Monday, 12 p.m. to 5 p.m. (Friday and Saturday to 7 p.m.). It is closed on Tuesday and Wednesday. Admission: General admission is $20 for adults and $15 for seniors. Members, students with I.D., and patrons age 18 and under are admitted free of charge. The first Friday of the month from 4 to 7 p.m. is free to all. The Museum is wheelchair accessible. Parking: Parking is free but limited, and no reservations are necessary. Public Transportation: Pasadena Transit stops directly in front of the Museum. Please visit http://pasadenatransit.net for schedules. The MTA bus line #180/181 stops in front of the Museum. The Memorial Park Station on the MTA Gold Line, the closest Metro Rail station to the Museum, is located at 125 E. Holly St. at Arroyo Parkway. Please visit www.metro.net for schedules. Planning your Visit: For up-to-date information on our guidelines and protocols, please visit nortonsimon.org/visit.


@nortonsimon


@nortonsimon


/nortonsimonmuseum