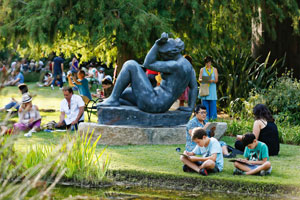 A Night in Focus: Garden Party
Celebrate the start of summer with the return of the Museum's popular Garden Party. Spend the evening exploring the sights and sounds of the Sculpture Garden, inspired by Monet's garden at Giverny. Pick up drawing supplies and sketch en plein air or create your own floral ornaments using herbs, flowers and citrus. Listen to the soothing sounds of live jazz music while you enjoy food and drink in the Garden Café. Recommended for all ages. No reservations required.

WHEN: Saturday, June 10, 4:00–6:30 p.m.

WHERE: Norton Simon Museum
411 West Colorado Boulevard in Pasadena. Limited free parking is available in the Museum's parking lot and on adjacent streets. Ridesharing and public transportation are encouraged.

ADMISSION: A Night in Focus: Garden Party is free with Museum admission.
Admission is $15.00 for adults; $12.00 for seniors; and free for Museum members, students with I.D., and everyone age 18 and under. Limited free parking is available onsite. For general public inquiries, call (626) 449-6840 or visit www.nortonsimon.org.
Press Contacts
Leslie Denk
(626) 844-6900
[email protected]
Emma Jacobson-Sive
(323) 842-2064
[email protected]
---
Press Kit
---
Request Images
High-resolution images from the exhibition may be obtained by filling out the request form below.
---
Related Links
Learn more about Garden Party.
About the Norton Simon Museum
The Norton Simon Museum is known around the world as one of the most remarkable private art collections ever assembled. Over a 30-year period, industrialist Norton Simon (1907–1993) amassed an astonishing collection of European art from the Renaissance to the 20th century, and a stellar collection of South and Southeast Asian art spanning 2,000 years. Modern and Contemporary Art from Europe and the United States, acquired by the former Pasadena Art Museum, also occupies an important place in the Museum's collections. The Museum houses more than 12,000 objects, roughly 1,000 of which are on view in the galleries and gardens.

Location: The Norton Simon Museum is located at 411 W. Colorado Blvd. at Orange Grove Boulevard in Pasadena, Calif., at the intersection of the Foothill (210) and Ventura (134) freeways. For general Museum information, please call (626) 449-6840 or visit nortonsimon.org. Hours: The Museum is open Thursday through Monday, 12 p.m. to 5 p.m. (Saturday to 7 p.m.). It is closed on Tuesday and Wednesday. Admission: General admission is $15 for adults and $12 for seniors. Members, students with I.D., and patrons age 18 and under are admitted free of charge. The Museum is wheelchair accessible. Parking: Parking is free but limited, and no reservations are necessary. Public Transportation: Pasadena Transit stops directly in front of the Museum. Please visit http://pasadenatransit.net for schedules. The MTA bus line #180/181 stops in front of the Museum. The Memorial Park Station on the MTA Gold Line, the closest Metro Rail station to the Museum, is located at 125 E. Holly St. at Arroyo Parkway. Please visit www.metro.net for schedules. Planning your Visit: For up-to-date information on our guidelines and protocols, please visit nortonsimon.org/visit. Changes starting July 1, 2023: Please note that admission fee will increase to $20 adults/$15 seniors beginning July 1, 2023. We will also stay open to 7:00 p.m. on Fridays, and resume our policy of free admission for all on the first Friday of the month from 4:00 – 7:00 p.m.


@nortonsimon


@nortonsimon


/nortonsimonmuseum