Audio: Vermeer's "A Lady Writing" Comes to the Norton Simon Museum
Audio: Vermeer's "A Lady Writing" Comes to the Norton Simon Museum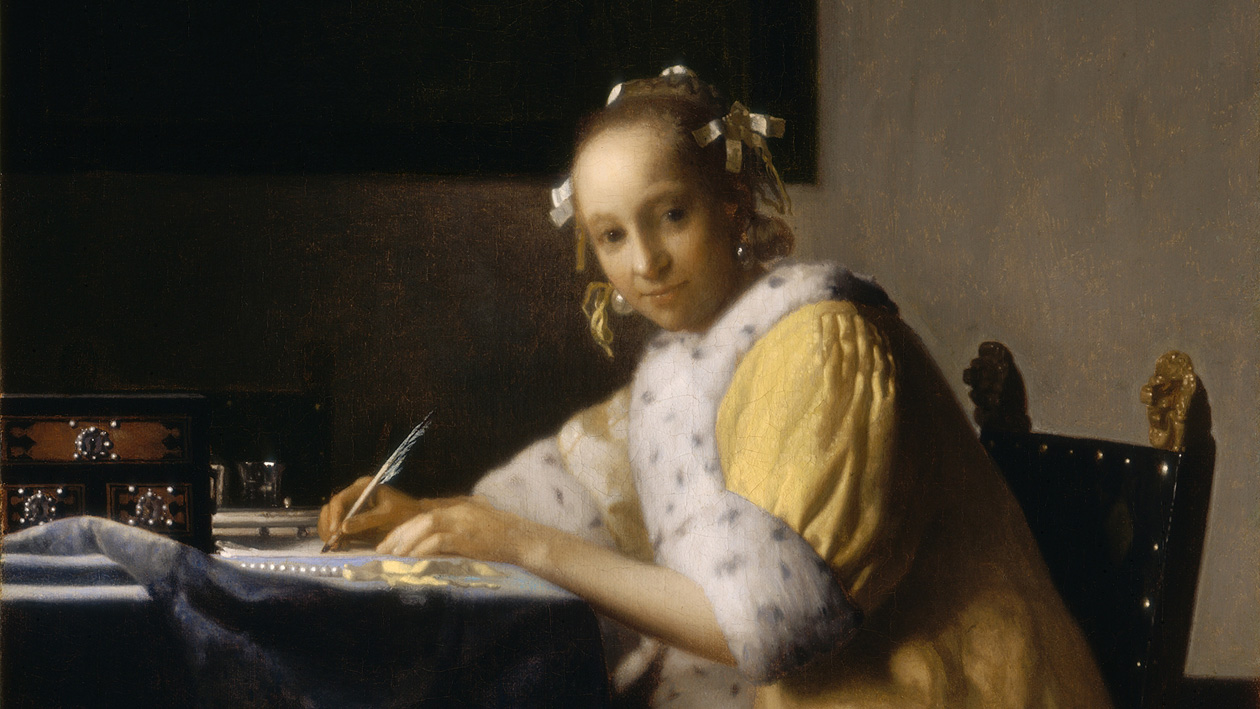 Chief Curator Carol Togneri talks to Arthur K. Wheelock, Curator of Northern Baroque Paintings at the National Gallery of Art, Washington, about Dutch master Johannes Vermeer and his compelling painting, A Lady Writing, c. 1665. A Lady Writing is on loan from the National Gallery of Art to the Norton Simon Museum from November 7, 2008 through February 2, 2009 as part of the institutions' art exchange program.
---
Transcript:
CAROL TOGNERI
Hello. I'm Carol Togneri, the chief curator at the Norton Simon Museum, speaking with Arthur Wheelock, curator of Northern Baroque Paintings at the National Gallery of Art in Washington, D.C. Beginning in November of 2008, the National Gallery is sharing with the Norton Simon Museum its captivating work, A Lady Writing, by Johannes Vermeer. This becalming picture, executed around 1665, is one of only 35 extant examples by this enigmatic painter.
It is on loan to us here in Pasadena from the National Gallery of Art through January 2009. And, it inaugurates a series of special loans of an art exchange program between the National Gallery and the Norton Simon Foundations. We're delighted to welcome this precious painting to Pasadena, and it's our great pleasure to be speaking with one of the field's foremost scholars of Vermeer's life and work, Arthur Wheelock. Arthur, thanks for being here to talk about this lovely, contemplative painting.
ARTHUR WHEELOCK
Thank you, Carol. I'm delighted to be here, and I'd love to talk to you about this painting, which is one of my very favorite paintings at the National Gallery. And, while we'll miss it while it's in your museum, we are delighted it'll be with you.
CAROL TOGNERI
Well, we'll take good care of her for you.
ARTHUR WHEELOCK
(Laughs).
CAROL TOGNERI
I can understand why it's your favorite painting. Can you tell us a little bit about this painting and what Vermeer's trying to tell us?
ARTHUR WHEELOCK
Well, we never quite know what Vermeer's trying to tell us, so that's one of the wonderful things about his paintings, that they always take time to look at, and I think that's to me, the most important thing to remember when you're approaching a Vermeer. They are quiet images. And with this painting in particular, it's unusual in Vermeer's work in that the woman who's seated at the table, has been writing a letter, and it seems as though she's been interrupted, and she gazes out at you. So you become this person who has somehow entered into her space. And she looks at you with these wide, open eyes, and if you take the time to look back, you find you are entering into this wonderful visual dialogue, you and the sitter and this wonderful, soft almost slight smile on her face that wanly welcomes you and engages you in that dialogue itself. it's an extraordinary experience.
Letters in Dutch paintings generally have to do with love and relationships between people. And, the gaze on her face certainly suggests a loving relationship, so that would also be consistent. But, Vermeer's paintings are always puzzles, and I think that's what's fascinating. He never tells you exactly what they're about, and that leaves us that opportunity to engage ourselves, and depending on how we view the world that day or that month, we can respond to this work in different ways.
CAROL TOGNERI
Can you tell us a little bit about who this sitter might be?
ARTHUR WHEELOCK
Well, I wish I could tell you. I, would love to know myself. (Laughs). She has been associated with Catherina Bolnes, because of the ... wonderful jacket that she wears. I have a little theory that another of his model is Catherina Bolnes, because it's a person that I see depicted in Vermeer's paintings from the very beginning of his career to the very end of his career, and the only person I can think of that was with Vermeer all those years was Catherina Bolnes.
CAROL TOGNERI
And, speaking of that yellow jacket, we've seen it before in other Vermeer paintings.
ARTHUR WHEELOCK
Well, it may well be something from his household. It's very possible that it is Vermeer's wife, Catherina Bolnes. Vermeer lived in Delft, and he was married to Catherina Bolnes, and they had a large household, lots of children, which is so surprising because his paintings are always so calm, and you hardly ever see any children in them. But after, his death, there was a listing of household effects, and one of the household effects was a yellow satin jacket trimmed with white fur. So, it may well have been something that belonged to Catherina Bolnes or was part of the house
CAROL TOGNERI
I'm sure that most of these stories that we hear about artists' life in general are apocryphal, but we have been told that Vermeer may have had financial difficulties, because he had such a large family. We've also heard that he even traded his paintings for food staples and bread, for instance, to bakers, just so that he could feed his family. What do you make of all these stories that have been handed down to us?
ARTHUR WHEELOCK
Well, the problem with these stories is that, they sound so good that you just sort of ...
CAROL TOGNERI
(Laughs).
ARTHUR WHEELOCK
(Laughs), believe 'em, but in fact, we have very little information about these things. So far as I know, Vermeer was very successful as an artist, at least until the very end of his life. The story of the baker has to do with the fact that one of the people who was a baker did own Vermeer paintings. Now, did he buy them, or did Vermeer trade bread, I think it's more likely that he bought them. I don't really believe Vermeer was trading his paintings for bread. All Dutch artists, I mean almost across the board, had serious economic problems in the early 1670s, because in those years, the French and German troops invaded the Netherlands, and then he dies just a couple of years later, so we have stories of his bankruptcy and all the issues of his ... widow, Catherina Bolnes, and his mother-in-law, tryin' to make ends meet. But that is a pretty constant thing with all Dutch artists at that time. I don't think it has anything to do with Vermeer's work not being appreciated.
CAROL TOGNERI
Would you attribute the paucity of the number of works that remain by Vermeer to the fact that he was somebody who most likely painted, slowly? Is it because of the great detail?
ARTHUR WHEELOCK
Well, we can make up all sorts of reasons. I'd one thing I think it's very important to emphasize is, it's not because of the detail.
CAROL TOGNERI
Mm-hm.
ARTHUR WHEELOCK
All the Vermeer paintings in the world I've studied under the microscope. And, by and large, when you look closely at a Vermeer painting, there are no lines. You know, under a microscope, you cannot tell where you are, because what you have are these subtle shifts of planes of color. And, it is just suggestion of detail, suggestion of form...
CAROL TOGNERI
Uh huh.
ARTHUR WHEELOCK
If you look at the fur of the jacket, it's sort of silhouetted against the back wall. His edges are so soft and undefined. The pearls are all undefined. It's very suggestiveness of form. The yellow jacket is only really yellow on the sleeve. And yet you think of the entire jacket being yellow. So, what he is playing with these optical effects of focus and unfocus, of light and color, allow your eye to kind of rest in certain places that he really wants it to rest. Those kinds of calculations are time-consuming. I can imagine him sitting in front of these paintings for a long time, just suggesting. But he thinks through these compositions. Everything in that painting is horizontal to the picture plane. The tabletop, the jewelry box, the folds on the table, just the pearls. All. horizontal, with one or two exceptions, and that is the angle of the chair, and the sweep of the fold that's on the blue tablecloth. These are just a few exceptions to open up and give movement within the a composition. He's a classicist. Vermeer, he takes away all the spatial references, time references, so that we see this woman could well exist in our world, as well as the world of the 17th century.
CAROL TOGNERI
Well, beautifully put. it's almost like we've been able to look at an x-ray, just, through your words. I thank you very much, Arthur, for taking the time to talk to us. Needless to say, we're very excited about, having this picture here in Pasadena.
ARTHUR WHEELOCK
Well, you're so welcome, Carol, a great pleasure.