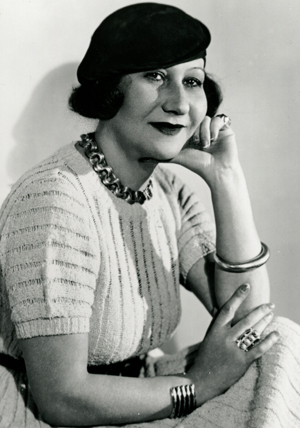 Pasadena, CA—The Norton Simon Museum announces its spring season of events and exhibitions. Unless otherwise stated, all events are free with admission. Stickers for ensured seating for lectures and concerts are distributed in the main entrance gallery one hour prior to event. Members enjoy early seating.
Highlights this season include the exhibition "Maven of Modernism: Galka Scheyer in California″ (April 7 - Sept. 25), the film series "Galka's Circle: Josef von Sterberg in Hollywood″ (May), the lectures "Galka Scheyer: Enterprising Prophetess of the Blue Four″ (April 22) and "Dear Little Tornado: Galka Scheyer in Hollywood″ (May 13), and the dance performance "Moving the Divine″ by Rahul Acharya (April 8).
The Museum's 4th annual "A Night in Focus: Garden Party," a social and fun evening of live music and art-making held in our stunning Sculpture Garden, returns on Saturday, June 17.
Details for these events, and many more, can via the link found at right.
IMAGE CREDIT: Unknown photographer, Galka Scheyer, Seated with Beret, c. 1930, Norton Simon Museum, The Blue Four Galka Scheyer Collection Archives
About the Norton Simon Museum
The Norton Simon Museum is known around the world as one of the most remarkable private art collections ever assembled. Over a 30-year period, industrialist Norton Simon (1907–1993) amassed an astonishing collection of European art from the Renaissance to the 20th century, and a stellar collection of South and Southeast Asian art spanning 2,000 years. Modern and Contemporary Art from Europe and the United States, acquired by the former Pasadena Art Museum, also occupies an important place in the Museum's collections. The Museum houses more than 12,000 objects, roughly 1,000 of which are on view in the galleries and gardens.

Location: The Norton Simon Museum is located at 411 W. Colorado Blvd. at Orange Grove Boulevard in Pasadena, Calif., at the intersection of the Foothill (210) and Ventura (134) freeways. For general Museum information, please call (626) 449-6840 or visit nortonsimon.org. Hours: The Museum is open Thursday through Monday, 12 p.m. to 5 p.m. (Friday and Saturday to 7 p.m.). It is closed on Tuesday and Wednesday. Admission: General admission is $20 for adults and $15 for seniors. Members, students with I.D., and patrons age 18 and under are admitted free of charge. The first Friday of the month from 4 to 7 p.m. is free to all. The Museum is wheelchair accessible. Parking: Parking is free but limited, and no reservations are necessary. Public Transportation: Pasadena Transit stops directly in front of the Museum. Please visit http://pasadenatransit.net for schedules. The MTA bus line #180/181 stops in front of the Museum. The Memorial Park Station on the MTA Gold Line, the closest Metro Rail station to the Museum, is located at 125 E. Holly St. at Arroyo Parkway. Please visit www.metro.net for schedules. Planning your Visit: For up-to-date information on our guidelines and protocols, please visit nortonsimon.org/visit.


@nortonsimon


@nortonsimon


/nortonsimonmuseum