Audio: Manet's "The Railway" on Loan from the National Gallery of Art, Washington
Audio: Manet's "The Railway" on Loan from the National Gallery of Art, Washington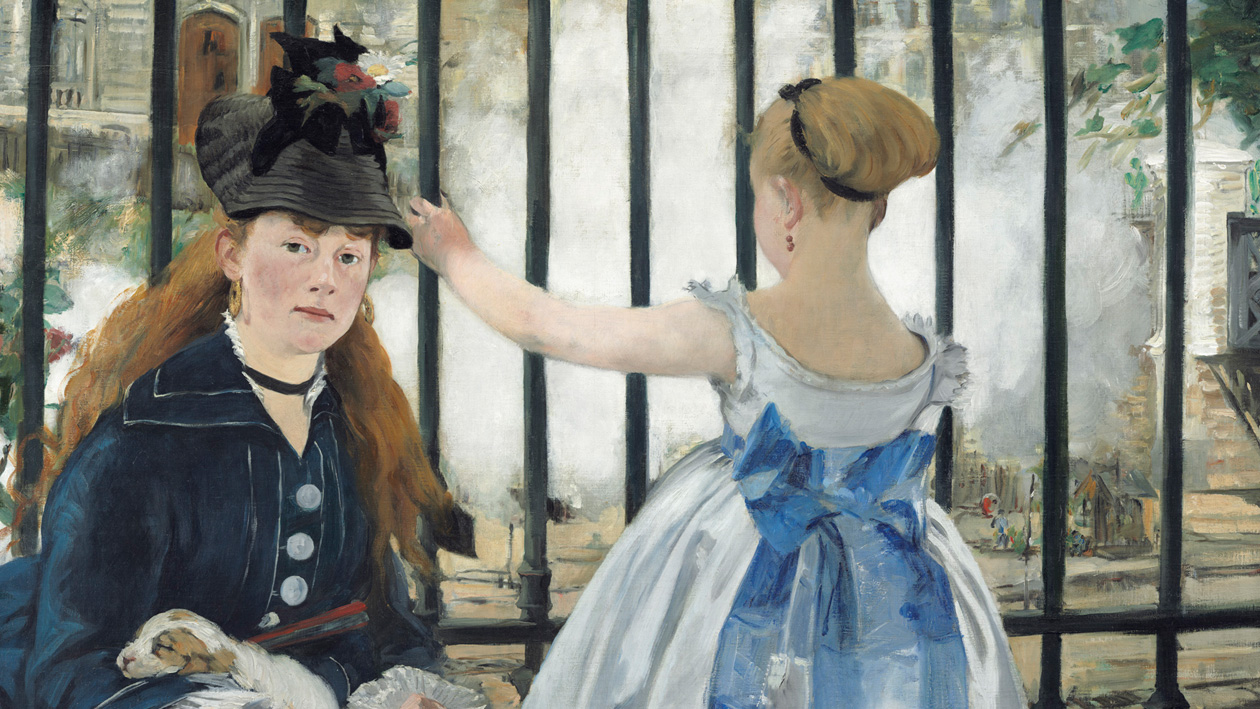 In this audio podcast, Chief Curator Carol Togneri talks to Mary Morton, Curator and Head of the Department of French Paintings at the National Gallery of Art in Washington, about the fascinating history of Édouard Manet's masterpiece The Railway. Produced in conjunction with the installation of that painting at the Museum from December 5, 2014 through March 2, 2015.
---
Transcript: 
CAROL TOGNERI
Hello. I'm Carol Togneri, the chief curator at the Norton Simon Museum, speaking with Dr. Mary Morton, the curator of French paintings at the National Gallery of Art in Washington, D.C.
MARY MORTON
Thank you so much.
CAROL TOGNERI
It is so exciting to think of your captivating painting, The Railway, by the French master Édouard Manet, in the midst of our 19th century galleries. Tell us about this painting. Describe it for us, if you will, and tell us where it fits in Manet's oeuvre.
MARY MORTON
Well, we think he began it in 1872. It is a large-scale painting, a strikingly painted image using very clear colors, strong contrasts of darks and lights and blacks and whites. It's a painting that is very aggressively intended to grab the spectator's attention. The question is, what does it say? You know, so Manet is shouting loudly, but what's the content of his words? What kind of painting is it? It does not fit into any of the known genres of painting at the time. Is it a portrait? And if so, who are these people? The young woman has been identified as Manet's favorite model. She was the protagonist in the famous Luncheon on the Grass, the famous nude that he did, Olympia. This is Victorine Meurent. And then the little girl, it doesn't really matter who she is because you can't see her face. He's actually turned her away. We have done some research, we art historians. And we think that she is the daughter of a friend of his who actually had a studio in the apartment building to which this little garden belonged, a guy named Hersh.
The question, of course, is what is the relationship of this young woman to the little girl standing at her side? Early on, they were described as a mother and daughter. But her fashion is a little too sort of fresh for a nice young, middle-class or upper middle-class mother. And she's got her hair down. And so we think that, in fact, she's hired help, that she's a governess. And she's sitting here reading to the little girl. There's a very strange bunch of grapes at the far right. This is classic Manet, just injecting a little still life moment. And then you try and figure out where they are—very hard to figure out. Now Manet supplies us with a title, the Railway. So you have a clue that there's something to do with trains. You look beyond those crazy bars and see that there is evidence of a railway yard, some signals, some signal men, a little signal house. And then over to the right, very important to pick out, the stone pillars of a famous feat of engineering known as the Pont de l'Europe, which was completed in 1868. It was this extraordinary cast iron bridge that spanned the railroad tracks that went into the Gare Saint-Lazare. It also allowed six boulevards to cross over the tracks. And at the heart of it was a place, the place de le Pont de l'Europe. Anybody sort of looking at that odd architectural moment in 1874 at the salon in which this picture hung would have recognized that little bit. And they would have connected it with the railway. And they would have known that these two were sitting just on the edge of the railyard, of the Gare Saint-Lazare. The key to really approaching Manet's oeuvre of the 1860s and '70s is to think about what's going on in the city and this incredibly radical violent project of urban renewal known as Haussmannization, after the Baron Haussmann, who Napoleon III had hired to create out of an essentially medieval city, a modern metropolis, essentially the Paris that we know today. And Manet had a very ambivalent response to this. And so you have this look on her face, which I think it's kind of like a city face that she has, a kind of blasé, sort of I'm not giving myself away look. This is, you know, one of the most modernist aspects of avant-garde painting at the moment to create a gripping image but not tell you a story.
CAROL TOGNERI
Well, Mary Morton, I thank you enormously for speaking with us this fine day. We thank the National Gallery for yet another beautiful loan to the Norton Simon Museum.
MARY MORTON
Thank you so much.