Audio: Goya's "Don Pedro, Duque de Osuna," c. 1795–1800, on Loan from The Frick Collection, New York
Audio: Goya's "Don Pedro, Duque de Osuna," c. 1795–1800, on Loan from The Frick Collection, New York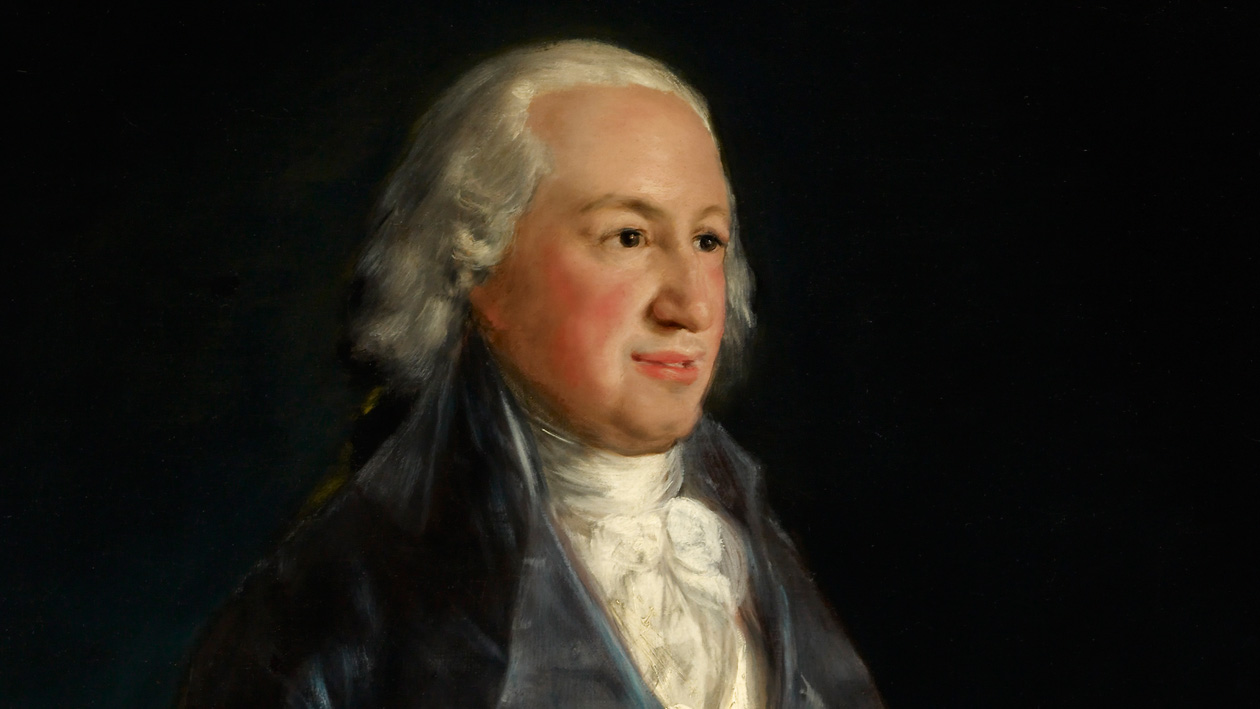 In this audio podcast, produced in conjunction with the loan of Goya's handsome portrait of Don Pedro, Duque de Osuna, c. 1795–1800, on Loan from The Frick Collection, New York, Chief Curator Carol Togneri interviews Frick Senior Curator Susan Grace Galassi. The artist's illustrious career, his long-term relationship to the Duke and his family, and the political upheaval in early 19th-century Spain are discussed in this fascinating interview. The painting is on view at the Norton Simon Museum from December 6, 2013 through March 3, 2014.


---
Transcript:
CAROL TOGNERI
Hello. My name is Carol Togneri, and I'm the chief curator at the Norton Simon Museum. I am here with Dr. Susan Galassi, the senior curator at The Frick Collection in New York, where she has presided in various capacities over that museum's exquisite collections for the past 24 years. Susan, I've been looking forward to this chance to speak with you about this third in the series of loans to the Norton Simon Museum from the Frick, this time your beguiling portrait by Francisco de Goya of Don Pedro, the ninth Duke of Osuna. Welcome, Susan.
SUSAN GALASSI
Thank you, Carol. It's such a pleasure to collaborate with you again on one of our exchanges.
CAROL TOGNERI
Let's begin by focusing on our artist, Goya. Paint a portrait of this fascinating artists for us, if you will.
SUSAN GALASSI
Well, that is not easy to do because he was so multifaceted and versatile. First of all, he was a brilliant portraitist, an extraordinary draftsman and an innovative printmaker, as well as an artist of, you might say, unfettered imagination and deep humanity. He's been described as the last of the old masters and the first of the moderns. Goya was from a small town near Zaragoza. And he was the son of a master Gilder. He received his early training from a local painter. And then we know that by 1763, he was in Madrid. He was studying then with Francisco Bayeu, who was also from Zaragoza. He took a trip to Italy and then he came back and worked on a commission for the Zaragoza Cathedral with Bayeu and eventually, he married his sister, Josefa. And this connection with his in-laws brought him into the orbit of the court. And beginning under the relatively enlightened King Charles III, Goya provided cartoons for tapestries for the Royal Tapestry Manufactory. And then through Don Luis, the brother of Charles III, this rising star came to the attention of the Duke and Duchess of Osuna, who were about a decade younger than Goya. And they maintained a close relationship with Goya for over 15 years, commissioning some 30 works from him. At their palace in Madrid and their country retreat in Alameda, Goya enjoyed contact with the liberal minded circle of ilustrados. These were the progressive thinkers, the writers, statesmen, nobles and artists, and many of whom he painted as well.
CAROL TOGNERI
The political upheavals of the government of Spain at this point, it's a very, very complicated story. But I'm wondering if you can talk about this moment in Spain and the relation that Goya had to the kings, to the politicians and to everything else that was going on.
SUSAN GALASSI
Well, Goya was central to everything. And his life unfolded during one of the most turbulent times in Western Europe. In the last decade of the 18th century, progressive ideas were flooding into Spain from France and England and Germany. And then they were propelled even more forcefully by the French Revolution. And on the peninsula, they clashed with more conservative ideas of absolute monarchy and the unquestioned authority of the church, which still held sway. But like many of the enlightened aristocrats who were his patrons, such as our duke, Goya was a liberal. Of course, this was the period of continual bloody resistance and brutal reprisals on both sides. And once the occupation ended, and the Spanish Bourbon dynasty was restored in the person of the ultra-conservative Ferdinand VII, things really got ugly. Ferdinand and his cohorts took revenge on the liberals who had collaborated with the French. The situation in Spain became so fraught by the mid '20s that in 1824, Goya, ill, deaf, aged 78, chose to flee and spend the rest of his life in Bordeaux living among other Spanish liberals.
CAROL TOGNERI
Can you describe this portrait?
SUSAN GALASSI
Well, it's a portrait in which the Duke is standing. He's in three quarter length. He has a rather jovial expression on his face. His lips appear to be moving, almost. He's dressed in fashionable French attire in a blue gray satin coat over a white vest and a flowing white jabot in a white stock, a high collar. His hair is grey, maybe powdered, but it's not a wig. That had gone out of fashion by then. One hand rests on a cane, while in the other, he's holding a folded letter. Inside the letter, you can read the words: El Duque de Osuna por Goya, the Duke of Osuna by Goya. So in a way, in his hand, he holds both the title of the work and the author's name. It's as if it's a kind of secret communication between them. It's a rather intimate detail.
CAROL TOGNERI
So this painting, where—prior to coming to the Frick—where has it been for the last 215 years of its life?
SUSAN GALASSI
Well, we don't really know where it was before it appeared in the Osuna sale of 1896. The Osuna's really lost their money at the end of the 19th century due to the reckless spending of a grandson. And he went through all of the Osuna money. And unfortunately, everything went up for sale at that time in 1896. It's known that having passed, you know, from our duke to the 10th, the 11th and 12th duke, that it was then bought by a French genre painter, a man named Gaston Linden with another men whose name is unclear, whether it's Dan-nat or Do-nat and shortly thereafter went into the hands of J. Pierpont Morgan. And it remained with Morgan until his death in 1913 and was owned by Morgan's son, John Pierpont Morgan Jr., who died in 1943. And it was at that time that the Frick was offered a number of works from the John Pierpont Morgan Jr. estate. And they purchased five paintings. And one of them was the Goya Duke of Osuna portrait.
CAROL TOGNERI
This has been a delightful conversation, Susan. Francisco de Goya's splendid portrait of the ninth Duque de Osuna is on loan from the Frick Collection in New York. It is with us from December 5th through March 3rd, 2014. And we thank you as well for your lovely cooperation.
SUSAN GALASSI
Well, thank you, Carol. It is such a privilege for the Frick to send this painting to the Norton Simon. And thank you very much for the conversation.