Curate the Collection
Curate the Collection
Curators manage and interpret a museum's art collection. Specializing in a particular period, culture or medium within the history of art, they help to explain artworks and put them in context. When organizing an exhibition, they decide which objects will be included, and how they will be displayed. They select a theme, choose artworks that fit the theme (and fit in the gallery) and write explanatory labels for the individual artworks and introductory texts to explain each subtheme. Then, sometimes with the help of a designer, they arrange and install the exhibition.
Curate Your Own Exhibition
Choosing Artworks
We invite you to curate your own small exhibition of up to 10 artworks from the Norton Simon's collections. Begin by looking at the objects below. Do you notice any recurring themes that interest you? What is an exhibition that you would like to see? What is an exhibition that you think would teach or entertain the viewer? Some potential themes include. . .
As you look at the artworks you've chosen, think about how you want viewers to look at the images, and how they fit together. Your exhibition should tell a story and progress from object to object. Are there images that you would like to group together? What is the last artwork you would like visitors to see as they leave the gallery?
You can find a selection of artworks to choose from below, or search the collections.
Writing Labels
Give your exhibition a descriptive title that will pique interest, and write a label for each artwork. An exhibition label is a short caption describing an object and displayed next to it. The label identifies important information like the artist, title and date, and it may provide historical context. Here's an example of a museum label at the Norton Simon Museum for Henri Rousseau's Exotic Landscape.
You can also write an introduction for your exhibition. This text gives viewers background on why you chose the works, and how they relate to your theme. It can give some context or additional information that helps viewers take a closer look at the artworks and understand your thought process.
Designing Your Exhibition
If you wish, you can decide on colors for the walls of the gallery, choosing something that would work well with your artworks and harmonize with your theme. Print out images and collage them in a diorama, on a piece of paper (using this template or one of your own) or in a notebook to see how they would look together on the wall and how it feels to look at them in a specific sequence with your text. Or, assemble your exhibition into a document or create an exhibition website.
See photos from past exhibitions below or explore our exhibition archive for more ideas.
Curate the Collection supports National Core and California Visual Arts Standards.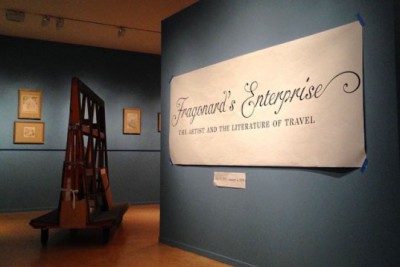 Exhibition planning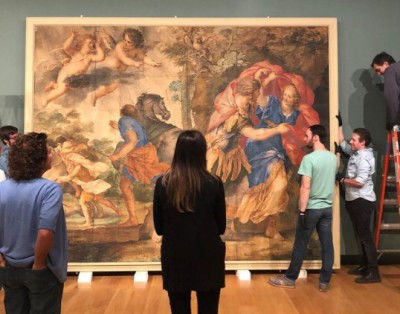 Exhibition installation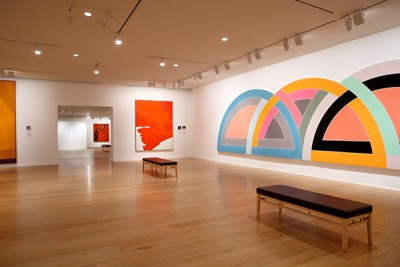 Exhibition gallery view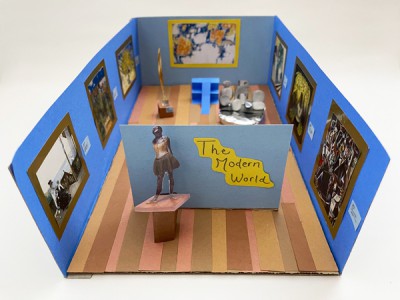 Curate the Collection example